Compulsory electrical checks for all rented properties start on April 1st
'Bristol Res' Blog • 16 January 2020
Compulsory electrical checks for all rented properties start on April 1st
After a number of years of delay, electrical checks on all rental properties are set to finally become compulsory.  Currently the legislation states that all landlords have a duty of care to ensure their electrical installations are safe making them potentially liable should an incident happen at their property. The lack of clarity over the need for certification has however often led to confusion, leaving properties potentially unsafe and landlords exposed.
The Electrical Safety Standards in the Private Rented Sector (England) Regulations 2020 which was laid in front of parliament this week is now expected to become law on 1st April this year and provide much needed clarity for all.
The new regulation lays out in substantial detail how landlords and letting agents will have to ensure that electrical installations within a property are tested by a qualified person.
For new tenancies this will have to carried out at the beginning of the tenancy and then every five years. For existing tenancies, the properties will have to be checked by 1st April 2021 and then every five years.
Following the electrical test letting agents and landlords will have just 28 days to fix any problem outlined by the inspection.
The rules will apply to every kind of privately rented property and failure to comply will attract fines of up to £30,000.  As with gas appliances, a copy of the electrical safety report produced following the inspection will have to be supplied to the property's tenants.
David Cox, Chief Executive, ARLA Propertymark said "We are supportive of this concept and believe it will create a level playing field for all agents and landlords as well as ensuring improved safety standards for tenants.  Mandating  electrical testing should have a limited impact on good professional landlords and agents in the market, many of whom already voluntarily undertake these inspections. We did raise concerns about the number of engineers available to undertake these reports by the April 2021 deadline but have received assurances from MHCLG about capacity in the supply chain."
At The Bristol Residential Letting Co we have have always believed that electrical testing has been the appropriate way to protect both tenants and landlords and it is an important part of the service we deliver. We established an in-house electrical team a number of years ago to ensure our properties were safe and achieved this standard.
With many agents and landlords unprepared for this legislation the 15 month time frame will put incredible stress on qualified testers.  Despite the MHCLG assurances that there are enough electricians available we anticipate, with a test per property taking around half a day to complete, that many will find it impossible to get their property tested and raised to the appropriate standard in time.
We are pleased to report that complying with this new legislation will not be an issue if your property is managed by The Bristol Residential Letting Co.
It is possible to read the legislation in full here.
---
Just lettings, just Bristol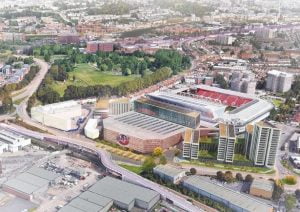 The latest on Bristol's 'Sporting Quarter'
Ever since the planning application to move Ashton Gate Stadium to Ashton Vale was turned down owner of Bristol Sport, Steve Lansdown,  has been applying his energies to developing the area around the existing stadium. 
It is nearly 10 years since the application got turned down and Ashton Gate Stadium have now revealed they are close to submitting their plans for planning permission.
The £100 million plans include a 4,000-capacity basketball arena and conference centre, two hotels, business space and residential flats, as well as housing development on land near the Long Ashton Park and Ride car park.  Full details can be found here
" Over this last year we have spent a lot of time discussing these plans with a variety of stakeholders, including the Bristol Urban Design Forum, residents, transport and environmental consultants and the council, in order to improve them and reach a point where we felt we had an overall design that would make the most of this exciting opportunity," said a spokesperson for Ashton Gate.
"Over the coming months we will publish our revised plans. The development now contains more open spaces, with less density and height in terms of buildings, a different layout to enhance the existing stadium, and brings forward significant improvements in transport and travel to and from the development.
We estimate that an extra 400 to 500 jobs will be created and, overall, the economic benefits to south Bristol and new opportunities opened up to our local community will be substantial."
It is anticipated that work could start in 2021 and be complete sometime in 2023.
---
Just lettings, just Bristol